About



Welcome to Drouin Santa Photos. Located in Drouin West Gippsland Victoria, an hour East of Melbourne. We are all about providing you and your family with a beautiful, unique Santa Photo experience. Tired of the same old boring chain store Santa photos, we decided to create something different. A place that families can enjoy. A way of creating unique, fun, affordable and quality family Santa Photos, that are more than just a snap shot sitting on Santa's knee. We have designed our sessions to be short and sweet, just a few minutes. This is so we can offer our services to as many families as possible. If you are wanting to do clothing changes, have many different poses with Santa or are wanting your child to spend some time with Santa, a mini session offered by many professional photographers might suit you better. Here at Drouin Santa Photos, our aim is to provide a chain store experience with a boutique look and feel.
We have a charming festive atmosphere and our sessions start in mid November each year. Drouin Santa Photos is a great place to visit during the festive season and we look forward to sharing a little of our Christmas with you.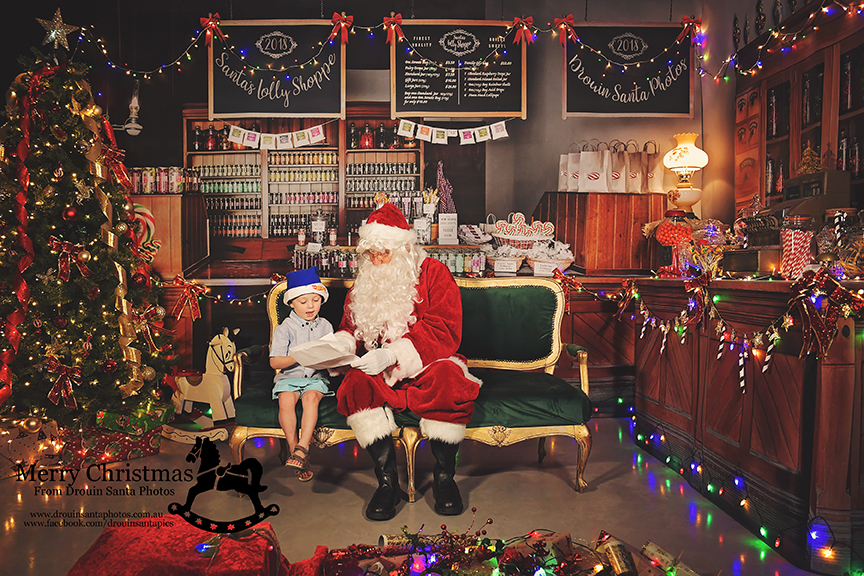 Horse's are our thing and we LOVE them to bits! We have our very own beautiful Clydesdale, Flossy, who just loves carrots. She loves the attention and we love to see you having fun and enjoying a pat with our beautiful gentle giant. Flossy is at every session, but sadly for Christmas 2021 you will have to admire her from afar as we want to keep your expreience with us as contactless as possible.
Louise Sedgman is your photographer, she captures just the right moment for you and your family. Louise is a multi award winning professional equine/fine art portrait photographer who is super passionate about providing you with high quality, affordable, family Santa photos. (If it interest's you, you can see her beautiful equine photography here.)
You can find out everything you need to know about our pricing and packages here.
If you have any questions or need info, you'll find it on our FAQ's page and if you can't find what you're looking for there, drop us an email and we'll get back to you asap.
And be sure to follow us on
to get all the latest updates and competition giveaways 🙂