FAQ's



WHAT'S NEW TO DROUIN SANTA PHOTOS IN 2020 ( Updated 16/12/20)
]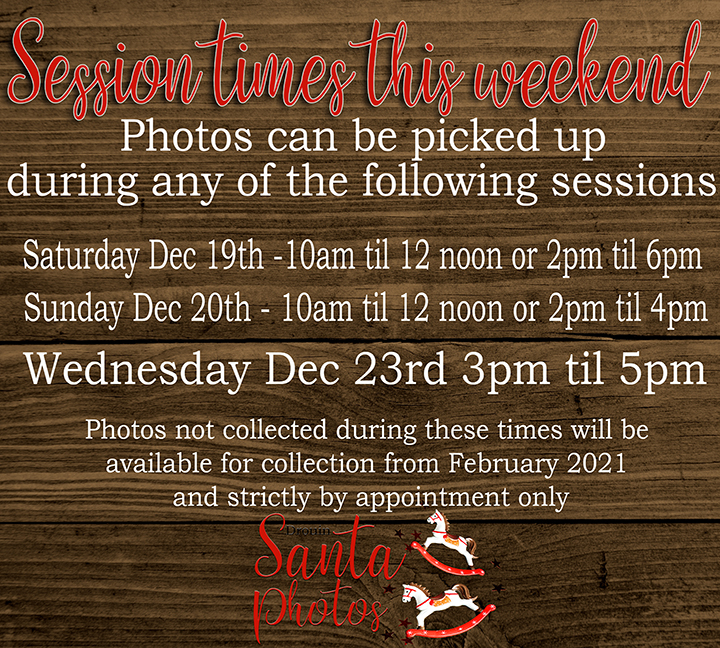 PLEASE NOTE: PHOTOS NOT COLLECTED DURING THESE TIMES WILL ONLY BE AVAILABLE FOR COLLECTION FROM FEBURARY 2021 AND BY APPOINTMENT ONLY BY EMAILING louise@drouinsantaphotos.com.au
Due to Covid 19 we have had to make some changes to the way we operate our business. Here is a quick list to outline what those changes are likely to be. This is of course changin

g regularly as restriction details change, so keep an eye on here or our

FB

page for up to date info.

Please check the DHHS website at https://www.dhhs.vic.gov.au for current advice about your personal location situation throughout November and December. Bookings made from any lockdown area will be cancelled and refunded if you cannot attend.

We are ready to open Covid safe. We have our Covid Plan and will be following all required Government protocols, including cleaning our studio between each family and having sanitizer stations available.

We will be collecting your basic details for contact tracing purposes.

If you arrive BEFORE your session time slot, and you can see there are families already waiting in front of the studio, please wait in your car until your session time starts so we can keep Covid safe.

Santa WILL be present at this years photos…WOOHOO!. Of course Santa will have to practice social distancing in accordance with regulations so sadly kids cannot sit on Santas knee, but we are so exctied he will even be able to be on set at all this year.

We are going contactless so there will be limited payment facilities available on the day you come for photos. PLEASE REMEMBER TO ADD YOUR PACKAGAE TO YOUR SHOPPING CART WITH YOUR BOOKING – AT THE TIME OF BOOKING.

Santa will not be able to hold your baby this year. We suggest you consider a beautiful family photo and hold your precious bub which is very special, particularly for babies first Christmas. We understand many parents don't like being in photos, but we can promise you it's painless, and your babies will thank you later.

If you would like a family photo in our Christmas scene, but without Santa, please let us know when you enter the studio – Santa loves an eggnog break.

Mandatory Masks that conform with the current Covid guidelines must be worn at all time when visiting Drouin Santa Photos, but in line with regulations, Masks can be removed briefly so you can smile for the camera 🙂

7 is the maximum number of clients we can have at any time in our studio

Unfortunately, we will be unable to cater for large group sessions this year due to Covid19 restrictions.

Flossy our Clydesdale mare will be here, but you will have to admire her from afar. No carrot feeding this year.

The kids colouring area will not be available this year as we want to make your experience contactless to keep your family safe, but there will be selfie opportunities while you wait.

Drouin Santa Photos are located in regional Victoria, so currently we are unable to have visitors from any metro lockdown area.

Hand sanitizer will be readilly available and requested to be used when entering our studio, and 1.5m social distancing protocols will be in place at all times.

Parking this year is now at the studio, not the paddock next door like previous years. So please use the studio driveway and follow the signs. Please enter and exit the property in a courteous and safe manner as space at the entry/exit is limited.

Our studio contact surfaces will be disinfected after every family and we request that families only bring into the studio, items that they require.

We have a limit on how many people (7) we can have in our studio and request that only family members who are planning on being in the photo, are present. (all children under 16 must have at least one guardian present)

The number of families we can photograph this year has been heavilly reduced due to restrictions, this means we wont be able to cater to as many familes as we usually do. We apologize in advance for the inconvenience.

Wait times will be mimimal as we can only have a small number of familes here are at any one time.

Yes, you can still bring your pets to Drouin Santa Photos ♥

Your photos may be used in our promotional material and future advertising. Please advise us when you visit if you prefer we didn't.

We know that Christmas will look a bit different this year. Talking to your kids will help them understand, and we promise that even thou it will be different, the Christmas spirit will be alive and well and here in abundance, and we can't wait to share that with you♥
WHAT IS THE THEME IN 2020?
After such a difficult year for so many due to the global pandemic and with Santa's reduced ability to travel (except for Christmas eve of course), this year we are'Off to Santa's House'.



Come and join us in Santa's lounge room by the delightfully cozy wood fire. Surrounded in wonderful Christmas Spirit and joy. Light's aplenty and lots of space to safely socially distance. We are still tweaking our scene slightly, but this is what you can expect to see, when you visit us in 2020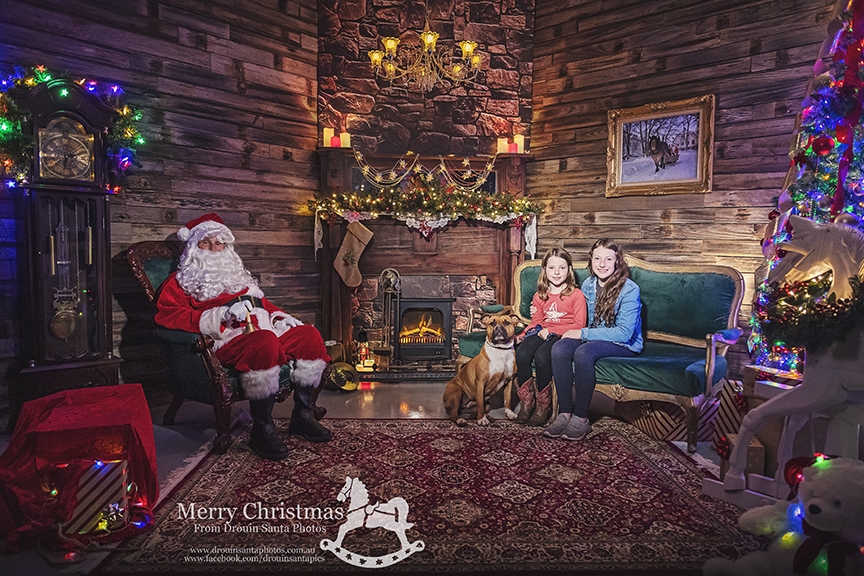 WHERE IS DROUIN SANTA PHOTOS?
We are located at 51 Wellwood Road Drouin, Victoria.
HOW DO WE KNOW WHAT THE SCENE WILL BE?
We pride ourselves for being a bit different to the usual Santa photos, so each year we have a different Christmas scene. While it's normally rustic, a little or a lot horsie. This year, because of covid19, it will be a little different again. But you can rest assured, it will be AMAZING! We want it to be a real surprise for you and promise, it will be BEAUTIFUL. It will always have a warm, vintage look and feel, as that is our signature style. We are unable to reveal our scene until just a few weeks before we start, as our sessions are held in a working photography studio. It takes alot of time and effort to set up our display and because the studio is used all year, we need it to function right up to when we start.
DO I HAVE TO BOOK FOR A SESSION?
Yes, you do need to book for a Santa photo session with us. This year, due to COVID restrictions, we have had to reduce the amount of people who can attend at any given time which therefore means we will not be able to take as many bookings as we normally would sadly. Just click on the bookings tab on the website menu and once redirected, go to the 'All Products ' tab and choose the session that suits you. You then add the session to your shopping cart. Print packages are also purchased at the same time, so please add your chosen package/s at the tinme of booking and finalize your payment. You will be sent an email with your booking confirmation. (You don't need to bring it on the day, your name and details will be at the door). Unfortunately due to restrictions, we will not be able to have large group bookings this year and apologize for the inconvenience. For info on special needs bookings, please scroll down.
HOW MUCH IS A SESSION?
There is a $10 booking fee, payable when you book, to reserve your session. Packages are not included in your booking fee and are purchased online at the time of booking, with one package for $50, any two packages for $85, any three for $115, any four packages for $140. You can check out our pricing/packages in more detail here 🙂
WHY ARE THERE NO SPECIFIC TIMES FOR BOOKINGS?
Each Santa Photo session has a limited number of tickets available in each small time slot. We have had to heavilly limit how many families attend any given session, so as to reduce the amount of people here at any given time. We suggest you arrive early in your chosen session time as we cannot guarantee an opening if you are late. There will be a small number of other families here when you are, but we have plenty of outdoor space for social distancing and our studio is disinfected after every family. We do suggest booking for your session well in advance this year, as session availability is heavilly reduced due to Covid restrictions.
LARGE GROUP BOOKINGS
Sadly large groups bookings are not available in 2020 due to Covid restrictions
DO YOU OFFER SESSIONS FOR SPECIAL NEEDS FAMILIES?
Yes we do. We love all the families that visit Drouin Santa Photos. We offer 10 minute private sessions for families who's kids struggle with crowds, noise, flashing lights, waiting in ques or families that require wheelchair access. These bookings are by appointment only and we ask that you contact us via email at louise@drouinsantaphotos.com.au prior to making your booking to ensure we can cater to your specific requirements. These bookings are limited and are only available to families with special needs. You need to arrive a min of 5 minutes before your session time to give your child some time to adjust to our suroundings. We have allocated the whole session time just for you and may not be able to honor your booking if you are late.
CAN SANTA HOLD MY BABY
Sadly this year Santa will not be able to hold your baby or children. We suggest you consider a beautiful family photo and hold your precious bub which is very special, particularly for babies first Christmas. We understand many parents don't like being in photos, but we can promise you it's painless, and your babies will thank you later.
WHAT PACKAGES ARE AVAILABLE AND FOR HOW MUCH?
There are four packages to choose from. A single 8×12 pkg. A 4×6 pkg which has four 4×6's. A Multi pkg which has one 6×8, one 4×6 and four 2×3 wallet photos. And a digital file pkg which includes one digital file that is sent to you via We-Transfer. Each package has the one photo on it, so if you are wanting multiple poses with Santa, you need to purchase a pkg for each pose. 2019 package prices are $50 each, any two packages for $85, any three for $115 and any four for $140. Packages are chosen and paid for when you arrive and before your session, not at the time of booking. You can find more info about packages and pricing by clicking here.
WHAT HAPPENS DURING A PHOTO SESSION?
After booking your chosen session time and ordering your print packages online, and poping it in your diary so you dont forget, you can rock up anytime during your booked session time slot, although this year we suggest arriving early in your timeslot. There may be a very small number of other families in front of you who have booked during the same session time slot, but you won't have to wait long. Your session will take just a few minutes. Time for your family to have their photos taken and enjoy our special unique Christmas scene. While we want to give your family the best possible experience, please note that our sessions are not mini photo shoots. Our business model is to offer our services to many families, and therefore, our sessions are short and sweet. Please bare that in mind when visiting us.
WHAT HAPPENS IF MY CHILD IS CRYING OR UPSET DURING OUR PHOTO SESSION?
We try our best to make all children feel safe and comfortable near Santa, but as you know, children have a mind of their own sometimes. It is often out of our control how your child will react and while we know in an ideal world, that a smiling Santa photo is what you want, sometimes it is not possible. We also have a very limited amout of time witth each family, and as such, it is very difficult to always get a perfect smiling photo of a child who may be very upset or unsure.
*PLEASE NOTE – Santa will not be able to hold your baby or children this year due to Covid restrictions.*
HOW MANY PEOPLE CAN BE IN OUR PHOTO?
We are currently limited to seven (7) people that we can have in our studio at any time due to Covid19 restrictions. Information will be updated regularly as restrictions change.
DO WE GET TO CHOOSE OUR OWN PHOTO?
No you don't. So we can offer our unique service and keep it affordable for many families, we choose your santa photo for you on the day. This is so we can keep the flow moving and offer our service to as many families as possible. We guarantee that we will always choose only the very best photo of your family. By doing this, it means you get the simplicity and affordability of a chain store Santa photo experience, but with a completely unique atmosphere and a beautiful Christmas scene that changes each year.
HOW MANY DIFFERENT PHOTOS CAN I GET?
Each package comes with one photo on it. For packages with multiple images on it, the same photo is used for each of the various sizes. If you would like more than one pose with Santa, say one of the kids with Santa and one with the whole family, you need to purchase a separate package for each. Each session has enough time for up to two different poses with Santa. If you require more than two poses, you will need to purchase an additional booking to allow the time needed.
ARE THERE HORSES IN THE SANTA SCENE?
We like to change our special Santa scene each year, so not every year will have a horse in the photo. We have also found that having one of our horses in the actual Santa scene is quite impractical. They move ALOT, so it's hard to maintain consistency within the backdrop of your photo, they POOP alot and that can be unpleasant for everyone (it often makes the dads gag!) Some people are really scared of horses. And some people have severe allergies to horses. Of course, we do have our beautiful Clydesdale mare Flossy here in the paddock, but sadly this year you will have to admire her from afar.
CAN I BRING MY DOG?
We love dogs at Drouin Santa Photos and welcome them during our Santa photo sessions. We do require that your dog be on a lead at all times, that you clean up after them and that if your dog is male, that he doesn't lift his leg while in the studio. Your dog should also be well socialized and controllable as we have young children, horses and other animals on the property. And while we love your dog, other families may not. Yep, you can bring your cat in a carrier, bunnies are welcome too!
WHAT HAPPENS IF I CAN'T COME ON THE DAY AND I'VE BOOKED?
FOR THE SAFETY OF THE PUBLIC AND OUR TEAM, WE ASK THAT IF YOU, OR ANYONE IN YOUR HOUSEHOLD HAVE HAD CONTACT WITH A COVID POSITIVE PERSON WITHIN THE LAST 14 DAYS PRIOR TO YOUR PHOTO SESSION, BEEN IN OR COME FROM A KNOWN COVID HOTSPOT, OR HAVE ANY COVID19 SYMPTOMS, PLEASE DO NOT ATTEND. Please advise us as soon as possible so you can either choose to get a full refund of your $10 booking fee and packages you have purchased or you can reschedule to another session time if there is one available.
WHEN CAN I PICK UP MY SANTA PHOTOS?
Your photos will be ready to pick up the following weekend after your photo session, at the studio where you had your photos taken. You can rock up during any session time to collect your photos, just come to the desk and the girls will get it for you. If you have your photos taken on the last weekend, just before Christmas (19th 20th Dec 2020) or if you havn't collected your photos from previous sessions, they will be available to pick up on Wednesaday 23rd December 2020, between the hours of 3pm and 5pm. Photos still not collected by this time will not be available for collection until the start of February 2020 and will be by appointment only by emailing louise@drouinsantaphotos.com.au
HOW LONG DOES POSTAGE TAKE?
We do everything we can to ensure your photos are ready in a timely manner, but they still have to go through a stringent editing process and that takes time. Postage is $20 and photos are posted by the end of the week after they were taken. However, postage can take up to an additional 2 weeks with Aus post currently, so please allow a min of three weeks from your session to recieving your photo order.
HOW LONG DOES IT TAKE TO RECEIVE AN EMAILED DIGITAL FILE?
Digital files have to go through the same editing process as all the photos do, so please allow up to 7 days after your photo session for your digital file to be emailed to you.
WHAT HAPPENS IF ITS RAINING ON THE DAY OF OUR SESSION?
Our new studio can cater to pretty much any kind of weather. While we have an undercover to shelter from the rain, the walk from the carpark is open so bring a brolly in the event of rain for your walk too and from the carpark. And if its hot, there is some shade, but your brolly is perfect for that too. If we have ALOT of rain, we may have to cancel a session if we dont think you will get in and out of the carpark safely. In this case, we will do our best to reschedule you to another session or you will receive a refund of your booking fee.
WHERE CAN WE PARK WHEN WE ARRIVE FOR OUR PHOTOS?
There is no street parking at our studio so please do not attempt to park on the road anywhere. This year parking will be closer to the studio and you will enter and exit via the studio driveway (not the paddock next door as in previous years). You will see our signs as you approach from either direction and parking is located next to the studio. Yes it is a paddock, so may be a little rough, but it's not too bad. If we have heavy rain, we may need to cancel a session due to the condition of the carpark, so keep an eye on the FB page for current info. (You will hear from us if this is the case) Once parked, just follow the signs and walk to the studio from the carpark (not far). It is suitable for prams etc but if you have a wheelchair, we suggest you book a private, special needs session where you can park right at the studio door. Special needs sessions are strictly limited and by appointment only so please call 0412 942897 prior to booking.
If you need a question answered and cannot find it here, please let us know so we can help you and add it to our FAQ's to help others, by emailing us at louise@drouinsantaphotos.com.au or simply use the contact form below.